Quattrocchi & Cattivelli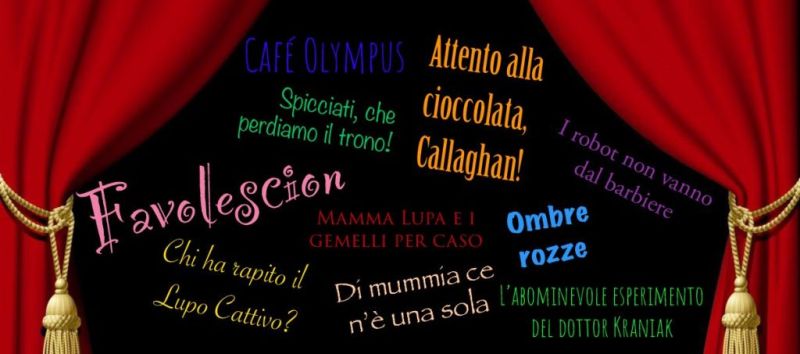 ---
FACEBOOK - Last modified: 1 march 2022 - ITALIANO
---

[ Beware of the Chocolate, Callaghan! ]

[ Who we are (in Italian) ]
[ Prizes and awards (in Italian) ] ]
[ Performances and Companies (in Italian) ]
[ Scripts and Rights ]
[ Links ]

[ TeatroFavola di Paolo Quattrocchi ]

---
Quattrocchi & Cattivelli
Beware of the Chocolate, Callaghan!
The Incredible Aulait-von Dant Case
---
A Light Mystery Comedy
Acts: 2 - Lenght: 100' - Characters: 11 - Actors: 8-10
Finalist at "Ugo Betti National Award for Dramaturgy" 2003
Winner at "Provini per una commedia" National Competition 2002
[ Script and Rights ]
PLAYBILLS
---
Translated and adapted from our original comedy in Italian:
Attento alla cioccolata, Callaghan!

---
Tommaso alias Thomas Fourhands - Italian mystery writer
Lara - Russian maid
James Callaghan - private eye
Della Mortimer - Callaghan's secretary
Jacquéline Aulait - young heiress and Callaghan's client
Greta von Dant - young heiress
Sergeant O'Hara - police sergeant
Julio de Plata - adventurer and gambler
Monsieur Aulait - chocolate magnate
Herr von Dant - chocolate magnate
Hazel Nuts - Aulait-von Dant's wife
Tommaso, an Italian esteemed writer of mystery stories of the "noir" genre, is desperate. A severe case of lack of inspiration and writer's block has prevented him from finishing the one-hundredth volume of the successful Detective Callaghan series, which his publisher is expecting within a few hours' time.
Luckily Tommaso discovers that Lara, his new Russian maid, is endowed with great talent as a mystery writer, and he asks her to help him. Lara accepts, but on one condition: the novel they write together must not use, except comically, the mystery/noir genre clichés which the Callaghan series is full of.
The new mystery is intricate and full of turns of events. Callaghan and his partner (and former secretary) Della Mortimer go to the harbor to protect the lovely Jacqueline, daughter of the chocolate magnate Aulait, from an unknown blackmailer. There they meet Greta, daughter of the chocolate magnate von Dant, Aulait's fiercest rival, and they discover that she is a victim of the same blackmail plan as Jacqueline, based on some compromising photographs.
Indeed, they discover that there are other instances of blackmail and blackmailers involved in this strange case, including police sergeant O'Hara, allegedly above suspicion and an old friend of Callaghan's, and Julio de Plata, the boyfriend of both Jacqueline and Greta (unbeknownst to them).
But for the two girls the surprises don't end here: in fact, they will discover that, in addition to the same boyfriend, they also have the same father...

In "Beware of the Chocolate, Callaghan!", the clichés of the mystery/noir genre, in both books and films, are parodied to create effects of surreal comedy.
These include, first of all, the trite descriptions of places and characters that we have found so often in works of this genre: for the settings, the decadent atmosphere of Callaghan's messy, dusty office, obviously dark and illuminated intermittently by the blinking neon signs outside; the image of the cold, rainy night that envelops the squalid outskirts of the American metropolis; the nocturnal view of the damp, foggy harbor; the menacing shapes of the containers; Callaghan's broken-down old car, etc.
Even the characters are as stereotyped as possible: the private eye with the curt, gruff ways – but a "lady killer" just the same, thanks to his macho self-confidence; the beautiful, elegant and spoiled heiress; the jovial Irish cop, etc.
However, during the play, this whole sampling of banalities and clichés is revisited and modified by Lara's intervention, which upsets the most common stereotypes, and in particular that of the shy, homely secretary secretly in love with her boss...
The idea of the play is thus to playfully highlight the clichés and stereotypes of mystery/noir stories and films, parodying them and proposing a surreal and comic alternative.
The action takes place on two levels: the scenes of the novel being written by Tommaso and Lara are acted out "live" by Callaghan and the other characters, in a whirl of "coups de théâtre" that complicate more and more the incredible Aulait-von Dant case...
---
Who we are
---
English version under construction.


---
Scripts and Rights
---
If you are interested to read a script, please e-mail us: qec@cattivelli.net.
We will send the script by e-mail (".pdf" zipped file).
To read a ".pdf" file you need "Acrobat Reader v3.0", or better. You can download it, free of charge, from this site "Adobe Systems" or from this site "OldVersion.com".
Our scripts' rights are protected by S.I.A.E. (Italian Society of Authors and Editors), a CISAC member.
If you are interested to perform a comedy of us, please, e-mail us qec@cattivelli.net, writing down some information about your company (performances, city, country, web site, etc.)
We will send you name and address of the S.I.A.E. representative in your country and the information to ask for performance permission.
Please, feel free to contact us for any question concerning our comedies and musicals.
---
Links
---
Under construction.
---